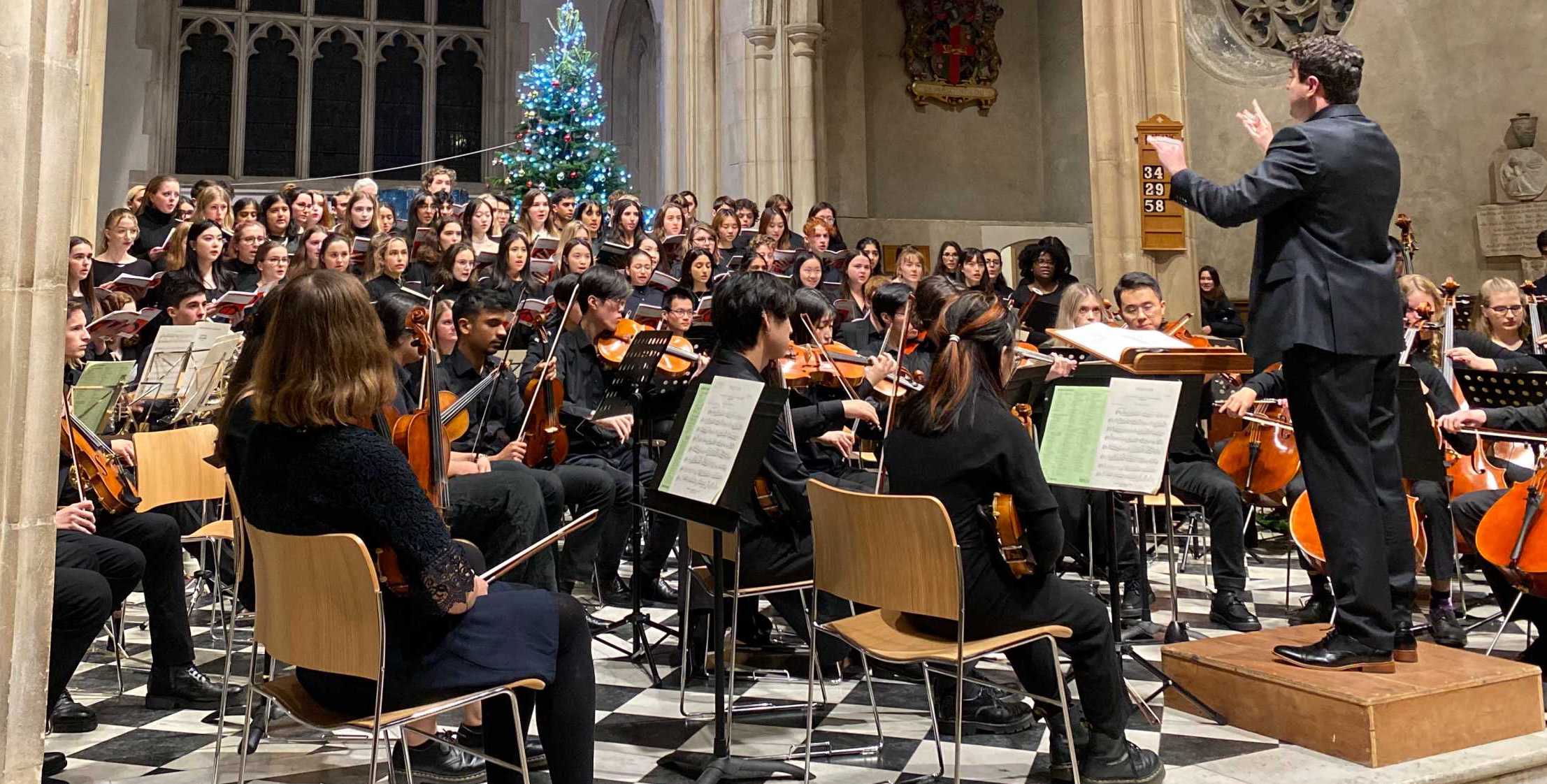 Ensembles
Symphony Orchestra | Contact: e.uilsctcacys.oc@trrmsocikuhuoe
Managers: Emma Stallard, Alistair Westwood
UCL's full-size Symphony Orchestra sees the university's finest instrumentalists taking on a broad range of challenging repertoire, presented in two concerts in Term 1, as well as the annual production of UCOpera in Term 2. The orchestra is reauditioned every year to provide equal opportunity.
Auditions: Wednesday, 7th October - Saturday 10th October
Due to social distancing difficulties, unfortunately Symphony Orchestra won't be able to run during Term 1.
Instead, we are planning to run small chamber music ensembles, with a view to restarting orchestra during Term 2.
Auditions will be held to determine which chamber ensembles you'll be placed in (each group will be made up of members of a similar standard).
Seating (as if you were in orchestra) will be determined as normal.
Symphony Chorus | Contact: ukcym@ucrscu.eolioo.hctsucis
Managers: Riya Banerjee, Melisa Öztürk
Facebook group
Click here to view the rehearsal calendar in the browser, or subsribe to this link in your ICS calendar software: webcal://uclmusicsociety.co.uk/chorus-calendar.ics
Our largest un-auditioned singing group produces incredibly high quality music despite the wide range of choral experience of its members. Major symphonic works are presented in cooperation with the orchestra, and the group takes part in a complete opera staging in Term 2. All students and staff welcome!
Chamber Choir | Contact: ci.cuhecroklbo.muctoic@sryshiumcea
Manager: Will Tallentire
The Chamber Choir draws on the finest singers from the Symphony Chorus to perform to a high standard, producing some very fine performances of smaller works. It also takes part in the annual London Contemporary Church Music Festival.
Auditions: 12th October
This year Chamber Choir will be held as normal (with potential zoom/Regent's Park rehearsals).
Concert Band | Contact: dosibuuuc.eo.@lmcnacitoctsyccrkne
Managers: Natasha Sharma, Katie Wharton
Facebook group
Concert Band is entirely un-auditioned, and consists of fun-loving students from all disciplines, and from a wide variety of musical backgrounds and experiences. It is open to any brass, woodwind or percussion player - we would love to see as many as possible come along!
A Cappella | Contact: eayi@kc.psalmasolupcceuocti.ulc
Manager: Valentina Huang
Have you seen Pitch Perfect? Do you wish you could be a Treblemaker or a Barden Bella? I know I do and if you're like me then A Cappella is the group for you. We pride ourselves on making an incredible sound whilst having the most fun possible. Our repertoire is a mixture consisting of classic A Cappella pieces and upbeat arrangements of more modern songs, so there is something for everyone. The first two rehearsals of the academic year are open to all, after which auditions are held.
String Orchestra | Contact: s.c.crtohlrcyee@oiasgmkucociuisstnrut
Manager: Mario Kormann
Facebook group
Our resident, unauditioned String Orchestra provides all of our string players with an excellent opportunity to enjoy a wide range of repertoire in a relaxed and friendly setting.