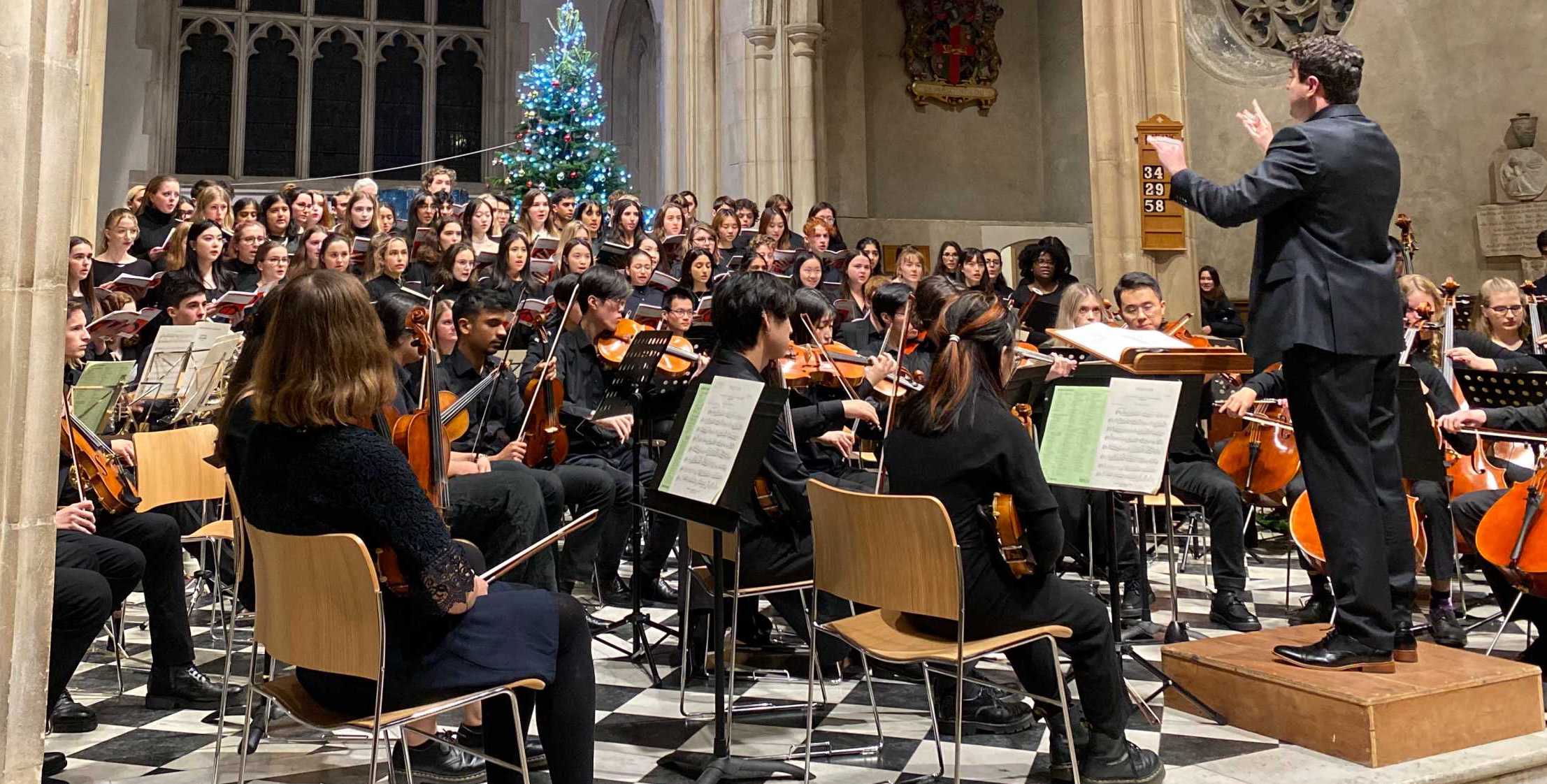 Welcome to the UCL Music Society!
The Music Society is one of the Union's oldest, largest and most ambitious societies. Made up of 6 regularly rehearsing ensembles, and supporting a multitude of smaller groups, we provide activities for more than 250 students every year. Challenging repertoire is performed in multiple concerts each year at venues across London as well as on campus.
University College Opera has formed an intrinsic part of the Society for more than half a century, and celebrated its 65th Anniversary in 2016 with a critically acclaimed production of Donizetti's 'La Favorite', staging a production of Verdi's 'Aroldo' one year later, and presenting the British première of Gounod's 'Polyeucte' in 2018. The company currently performs in exile at the Theatre Royal in Stratford for the duration of the closure of our home venue - the Bloomsbury Theatre.
Open to anyone within the University with an interest in music, we aim to provide something for as many people as possible. There are opportunities for all to get involved, whether that be performing, learning, volunteering, or simply listening! Have a look at our ensembles to see where you can get involved.
Feel free to join our Facebook Group to stay up-to-date with the latest society activities.
For general inquiries, or to sign up to our mailing list, please contact kitoecmulys..sc@snicpuctidueero. If you have a query about a specific ensemble, we'd prefer you to email the manager(s) directly, addresses can be found on the ensembles webpage.
For the concert schedule and rehearsal times, please ensure you are signed up to our mailing list, or keep an eye on the sidebar and our Facebook groups. Public events are advertised around campus, and via social media.
Term 1, 2018/19 Information:
A call to saxophonists
For UCL Symphony Orchestra's winter repertoire and specifically Prokofiev Lieutenant Kijé Suite – a tenor saxophonist will be required. We can provide an instrument, so reeds only required. If you are interested in more details, and perhaps have played orchestral sax (or even the piece before), please email svycekcu@loipicum.c.utso
UCOpera Opportunity
We are looking for members of the UCL community to take the following position in our 2019 production of Smetana's Libuše: Graphic Designer for publicity. This exciting opportunitiy is open to all students (undergrad and grad) and staff members. Please contact rpocuok@uceudeprca.ro. if interested.
Volunteering Opportunities
Caroling
A campaign called 'Choirs for Change' is looking for people to spread some seasonal feelings in London's tube stations.
Events
Concert social
26th November, 16:30
Dmitri Alexeev's Chopin and Scriabin recital at Westminster Cathedral Hall
---
Lunchtime Concert
26th November, 12:30 - 13:30
Haldane Room, Wilkins Building
---
Chamber Choir Concert
30th November
---
The Eustones A Cappella and String Orchestra Concert
5th December
---
Christmas Party
7th December, 8pm
One SOHO Greek St
---
Symphony Orchestra and Chorus Concert
8th December
Programme:
Dukas: Sorcerer's Apprentice
Prokofiev: Lieutenant Kije Suite
Rimsky-Korsakov: Christmas Eve Suite from Christmas Eve Opera
Borodin: Polovtsian Dances from Prince Igor
---
Chamber Choir Concert
10th December
---
Concert Band Concert
11th December